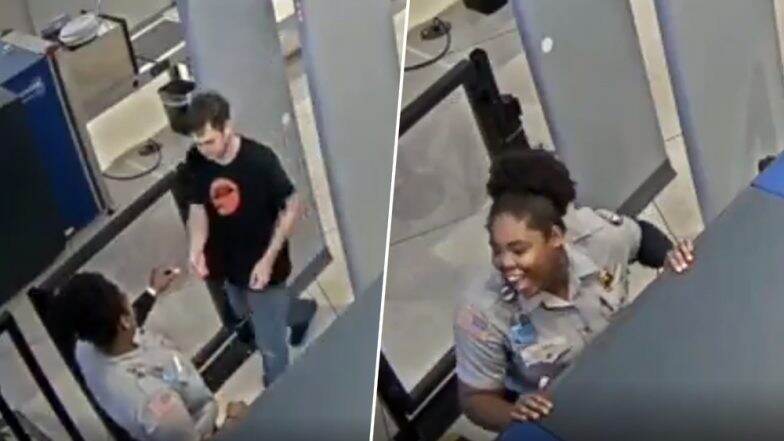 Most of the times airport staff, guards and workers are friendly and easy to help around the passengers. But one security staffer in upstate New York was too mean to one of the passengers during the security check. The employee slipped on a note to a passenger named Neal Strassner. When he started to walk towards his gate, the staffer woman yelled and asked him to open the note. The note read, "You ugly!!!" and the woman laughed about it. However, after Strassner complained, the employee has been fired. The video footage of the incident has been shared online and is now going viral. Naked Passenger Walks Onto Tarmac at Chicago's O'Hare International Airport (Watch Viral Video).
The mean incident took place at the end of July at Greater Rochester International Airport. When Neal Strassner was going through checks for his departing flight, the security guard handed him a torn piece of paper. While he tried to ignore it, the woman asked him to open and see. The torn piece of paper read "You ugly!!!" and once he opened it, the security guard could not stop laughing about it. Clearly shocked by the incident, Strassner asked for the copy of the security footage from that day. He filed a Freedom of Information Act request to check up on the security cam. Air India Passenger Strips Mid-Air on Flight Returning From Dubai, Deboarded in Lucknow; Watch Video.
Here's a Video of the Staffer Handing out Note to The Passenger:
UPDATE: The airport security employee has been fired, according to TSA. Here's the video of the employee passing the mean note, laughing about it, and reaching for more paper to begin writing again. #ROC pic.twitter.com/wXLcD8aLwz

— News 8 - WROC-TV (@News_8) August 15, 2019
At the end of the video, the guard is seeing writing another note on a scrap of paper. The video has crossed over lakh views and people are not impressed by the guard's behaviour. People on Twitter called her a racist and some said she deserved losing her job. The concerned employee worked for VMD Corporation, a security company based in Virginia. Strassner who is a frequent flyer told News8 this is the first time he has come across such behaviour at the airport. He also mentioned that he was now a little curious about what the other note said.