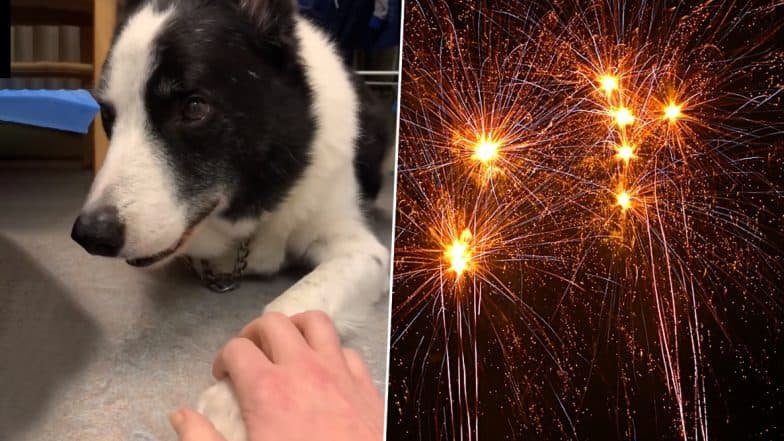 It's a known fact that dogs are terrified of the sound of fireworks. The loud noises, flashing lights and smell of sulphur can cause trigger fear among the pets. Time and again, pet lovers and owners have worried for their pets' sanity and requested governments to ban the sale of firecrackers. Recently, a video surfaced on social media that triggered the debate to ban firecrackers. An animal lover shared the distressing moment when her beloved pooch was captured shivering at the sound of fireworks. The video posted on Facebook has gone viral as the owner calls for ban of crackers in Scotland. Glitter on Dogs' Testicles? Why This Inhuman 'Trend' Shouldn't Catch On. 
Identified as Karen Palmer, the pet owner shared the clip of her doggo, trembling on the kitchen floor at their home in Scotland town of Stranraer. The video was captioned as, "For all you people letting off fireworks tonight. I hope you're all having a b****y good time cos I know someone who isn't...... my poor boy!!!! Get them banned for public sale and used for organised displays only." 'Great Dog Mom' Brooke Houts Accused of Animal Abuse, YouTuber's Apology Doesn't Impress PETA Who Want Her Channel Shut Down. 
Watch the Viral Video:
Campaigners in Scotland have called for action to end the "misery" caused by fireworks. According to a research last month, thousands of people responded to the Scottish government consultation on fireworks amid growing concerns about being used irresponsibly and recklessly. While some are in support of making tighter controls on the sale of firecrackers, others feel there should be strict laws on how they can be used. Animals are injured while they try to escape the noise of fireworks. As shown in the above video, dogs tremble in distress when they hear crackers bursted outside. Many behavioural problems are seen in pets, and it becomes difficult for the owners to comfort them.