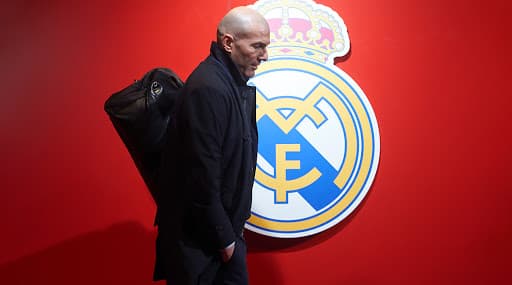 Real Madrid manager Zinedine Zidane has claimed that his side 'will eliminate' Liverpool if the two teams face each other in the Round of 16 of UEFA Champions League 2019-20. Los Blancos already secured their place in the knockout stage of the competition on matchday 5 when they played out an entertaining 2-2 draw against Paris Saint Germain. However, the English side needed a victory in the final group stage game over Salzburg to secure their place in the elimination phase of the tournament. Liverpool are the defending European champions and are in fine form in their domestic league as well. Football Transfer Updates: Real Madrid All Set to Offer Two Stars in Exchange for Paul Pogba.
Speaking to the media, the Frenchman said that he would fancy their chances against anyone, even Premier League leaders and European Champions Liverpool. 'If we play Liverpool, we will eliminate them' the Madrid manager said when asked about facing Liverpool. 'We can't do anything about the draw' he added. Real Madrid finished second in their group, hence a tough fixture awaits them in the round of 16. Liverpool, Manchester City, Juventus, RB Leipzig and Bayern are the possible opponents for the Madrid side during the knockout stages. Zidane's comments may come across as arrogant but the Frenchman is one of the most successful managers in Champions League history, being one of only three managers who have won the prestigious trophy three times. Paul Pogba Transfer to Real Madrid News Update: 5 Reasons Why the Frenchman Will Shine With Los Blancos.
The Round of 16 draw will be held on Monday (December 16, 2019) at the UEFA headquarters in Nyon, Switzerland. The Spanish giants surely have a tough task in front of them, no matter which team they face but recent run of results will surely give them the confidence to emerge from the tie as winners. The draw is scheduled to start at 04:30 pm according to Indian Standard Time (IST) and 12:00 CET.