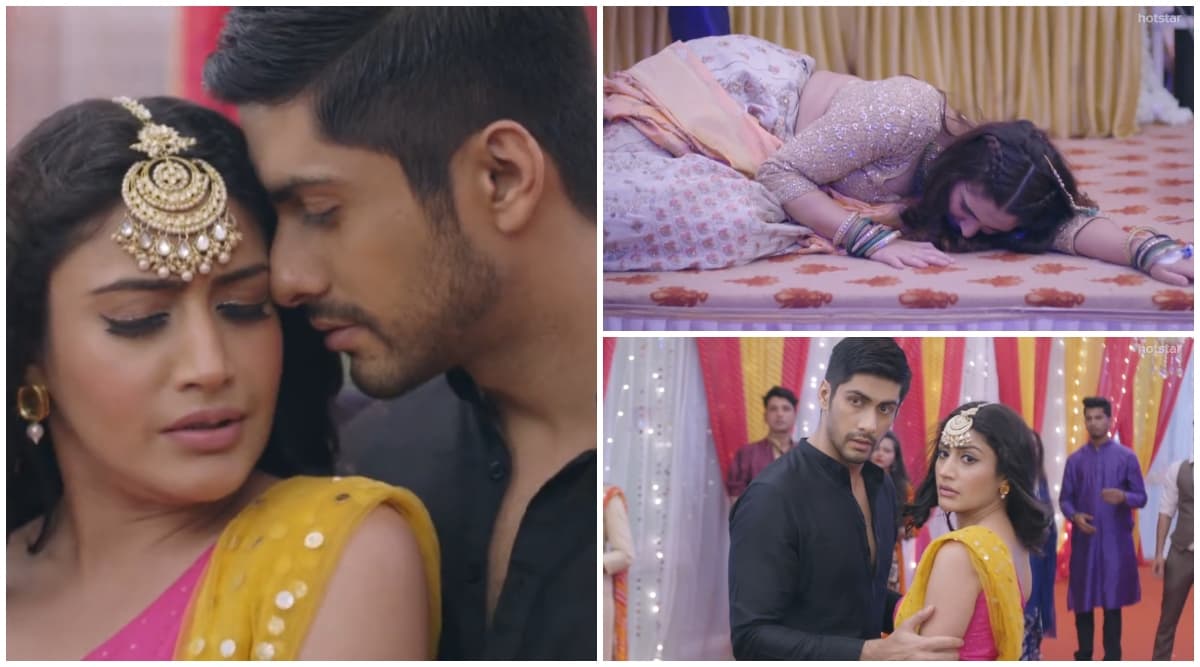 In yesterday's episode of Sanjivani 2 we saw Dr Juhi make a surprising announcement regarding Jessica. While Ishaani gets angry on seeing Sid with an unknown lady. Juhi and Shashank dance at the wedding. Tonight's episode starts with Rahil tells Sid (Namit Khanna) and Ishaani (Surbhi Chandna) that they both look nice as a couple and smiles, Ishaani leaves, Sid gets upset and goes. On the other side, Vardhan (Ronit Roy) comes near Anjali (Sayantani Ghosh) and shows her an earring, she gets furious and says she does not want anything and tells him to be away from her. Vardhan says he had brought this gift for Jessica and just came to show her and says he tried to stay away from her but is not able to, Anjali says she is not interested in him and leaves. Vardhan gets furious. Surbhi Chandna Aka Dr Ishani of Sanjivani 2 Is a Vision in White as She Poses for the Camera (View Pics)
Meanwhile, Rahil again teases Sid that when he does not have any feelings then why he wrote her name on his hand, Sid gets disturbed and reminisces about Ishaani. Rahil tells that he is in love with Ishaani. Sid says this can't happen. Back in the venue, Anjali reminisces about Shashank (Mohnish Bahl) and Juhi (Gurdeep Kohli) and gets enraged. Later, she goes to Vardhan and tells him she forgive him and holds his hand and takes him with her, she thinks now Shashank will come to know-how people get effected when the person they care hurt them. Sanjivani 2 Actress Surbhi Chandna's Goa Diaries Will Give You Major Vacay Vibes (View Pics)
On the other side, Sid tries to erase Ishaani's name from his hand and gets himself hurt. On the other side, Ishaani feels happy to see Sid's name written on her palm. Asha teases her and says she is blushing and says she will tell Sid about this, Ishaani tells her not to and runs after her. Meanwhile,Sid tells Rahil that he cannot love anyone and he does not want love from anyone. Rahil say they were just joking and having fun and nothing else, Sid leaves from there.
Meanwhile, Ishaani collides with Sid, they both fall over each other. Sid sees his name on Ishaani's palm and pushes her away and gets up. Ishaani is shocked by his behavior, Sid berates her and says that he is her senior and warns her to be away from her, Ishaani gets disturbed. Later Sid thinks that it is his fault as he should not have let Ishaani come so close to him and thinks he should be away from her as he does not want his past to repeat again and gets emotional. Sanjivani 2 October 14, 2019 Written Update Full Episode: Ishaani Gets Jealous on Seeing Sid with a Mystery Lady
On the other side, Ishaani cries and hugs Asha as she is hurt by Sid's behavior. Ishaani blabbers as she is not able to digest Sid's words and she is shivering and feeling uncomfortable. Ishaani says she is feeling scared and says she does not want to stay alone and does not want to lose Sid as she loves him a lot. Meanwhile, the nurse comes and informs Sid about a patient who needs treatment, Sid goes to attend the patient. In the precap, Ishaani runs to hug when she sees Sid, but he ignores her.