New Delhi, August 11: Has animal sacrifice been banned in Jammu & Kashmir ahead of Eid al-Adha or Bakra Eid? This is the question scores of Indians are asking after a photoshopped screenshot went viral claiming that the sacrificing of cattle has been banned by the J&K administration ahead of the Muslim festival.
A fact-check has, however, revealed that the social media has been gripped by a rumour which is a handiwork of miscreants. The rumour-mongers used the logo on Mirror Now, a leading national news channel, and designed an image which read as follows: "Breaking News: Animal Sacrifice Banned in Kashmir". Intelligence Bureau Issues Terror Alert in Jammu and Kashmir and Other Places in India Ahead of Eid al-Adha 2019
Here's How Twitter Was Misused by Fake News Peddlers:
Ban imposed on sacrificing Animals in #Kashmir

Now #Kashmiris can Slaughter #Indian #Army soldiers in front of their houses 😉#KashmirWantsFreedom #KarachiRain #SundayThoughts #Srinagar

Hamid Mir pic.twitter.com/8mPuzUko8h

— ⓤ ⓜ ⓐ ⓡ (@Umar5590) August 11, 2019
Anger Fueled Against Ruling Regime:
BJP & RSS are heading ahead as planned

Ban imposed on sacrificing animal in kashmir. Now no one well be allowed to slaughter animal

Dear @UN it's clearly religious rights violations #WakeUpUN_KashmirBleeding pic.twitter.com/G1ZuAJE5ZI

— Balbeir Singh (@BalbeirSingh1) August 11, 2019
The news was found to be totally fake after Mirror Now clarified that no such news has been aired by the channel. Other credible media outlets also did not publish or broadcast content validating the viral claim.
Shehla Rashid, a Kashmiri activist and member of Jammu & Kashmir People's Movement (JKPM) party, issued a statement claiming that she contacted the Mirror Now editorial staff and found that they have not aired this news.
Read Shehla Rashid Tweet Below:
Warning: There are photoshopped images of a @MirrorNow screen being circulated with the caption that animal slaughter has been banned in Kashmir. I checked with Mirror Now. They deny having run the story. Looks like a trap by the ruling party to discredit Kashmiris.

— Shehla Rashid شہلا رشید (@Shehla_Rashid) August 11, 2019
The fake news comes amid a state of curfew in Kashmir, which was imposed hours before the Centre issued an executive order scrapping the state's special status by abrogating Article 370. The curbs are expected to be relaxed tomorrow ahead of the festival, to allow locals to assemble for the congregational prayers.
Fact check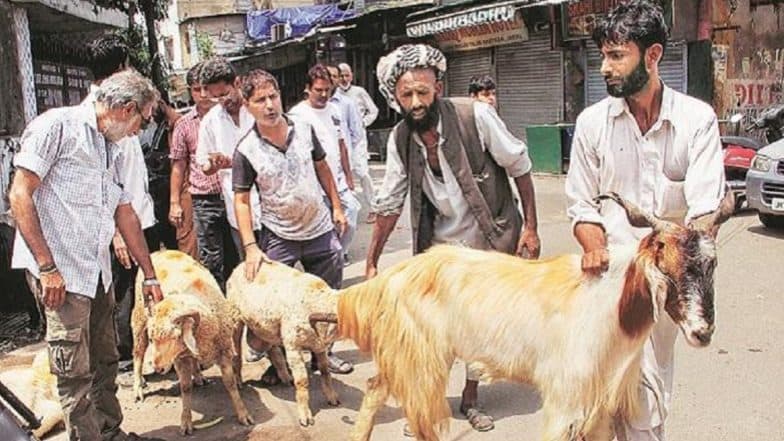 Claim
Animal sacrifice banned in Kashmir ahead of Eid?
Conclusion
False, no such order issued by the administration. Screenshots of news clip are fake.