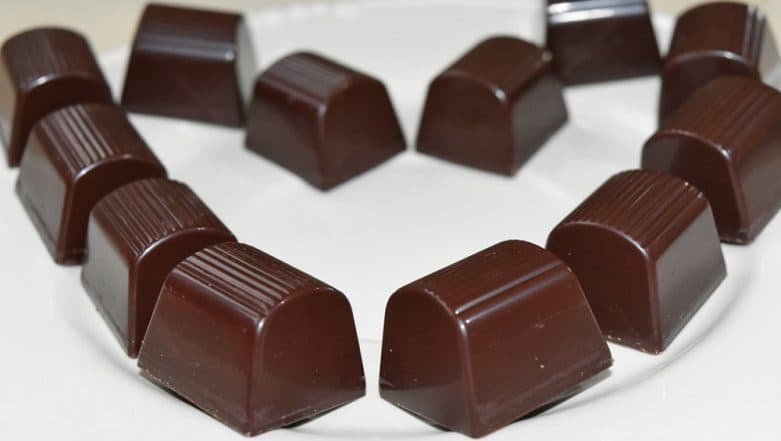 Happy Milk Chocolate Day. Everybody's favourite treat. Milk chocolate is something that is enjoyed by every person, regardless of their age. The sweet goodness is perfect for everything and instantly lightens the mood. Sad? Chocolate bar. Bad day? Chocolate bar. Periods cramps? Chocolate bar. Milk chocolate is the answer to everything and we are more than excited to celebrate a day dedicated to it. If you think milk chocolate only makes you gain weight and increases sugar, we have some good news for you. World Chocolate Day 2018: Love Chocolates? Do Not Miss on These Absolutely Chocolicious Instagram Accounts.
We all love chocolates and can't wait for excuses to grab a sweet chocolate bite. Chocolate can be incorporated in any dessert and makes it better. Here are some of the benefits of milk chocolates that we're sure you didn't know of. Chocolate Day 2019: 5 DIY Chocolate Recipes That You Can Whip Up at Home This Valentine Week.
Benefits of Milk Chocolate
Milk chocolate is good for the heart

Lowers heart risk

Milk chocolate fights cold

Chocolate improves mood

Chocolate has a high content of antioxidants

Eating one chocolate a day reduces chances of strokes

Chocolate improves your memory

Chocolate may reduce pregnancy complications

Chocolate reduces fatigue

Helps you get energetic

Chocolate reduces stress

Chocolate is a great anti-depressant

Chocolate can help with fetal growth

Eating chocolate makes you live longer

Chocolate masks can help with sunburn
With all these health benefits, what more do you need to go and give yourself a chocolate break? Go grab your favourite chocolate snack or dessert and show them this list every time anyone picks on you for eating chocolate.