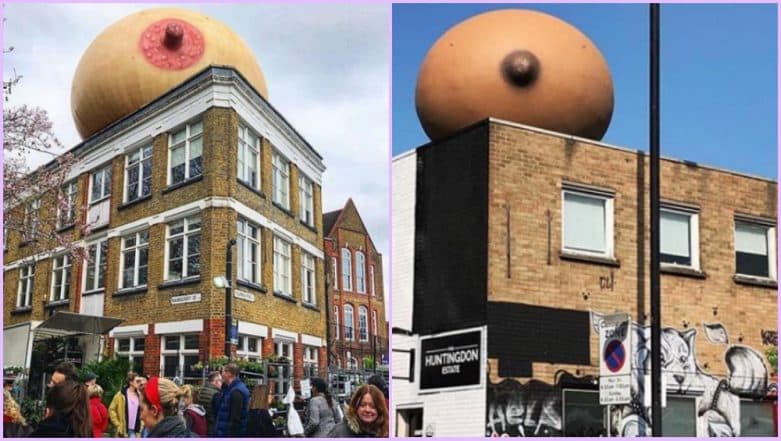 A bunch of inflatable boobs popped up across London on April Fools' Day, but for a good reason. In an effort to fight the stigma around breastfeeding and pumping in public, femtech firm, Elvie has designed and installed many bosoms across the capital of England. A few hush and blush though, the effort was enormously applauded, and the beautiful and bold pictures are headlined everywhere. The boobs of different sizes, shapes and colours, reportedly appeared in four locations in the early hours of April 1 coinciding with UK Mother's Day celebration. And it indeed could not get any better. Why Breast Milk Is The Best Food Mothers Can Give Their Babies. 
The giant inflatable breasts were a part of Elvie's #FreetheFeed campaign, which aims to empower women to feel safe and comfortable breastfeeding or pumping anytime, anywhere and also encourage the British public to support them. According to a survey which was conducted earlier this year, revealed that the UK has one of the lowest rates of breastfeeding in Europe. About 1,000 18 to 80-year-old women in the UK participated in the public survey. Not Just India, These Countries Also Have Some Stunning Breastfeeding Postal Stamps. 
Check Pictures of Giant Inflatable Boobs in London 
View this post on Instagram
Here's Some More
View this post on Instagram
Elvie is a tech company which enhances women's lives through innovative technology. As reported and quoted by Metro, Elvie CEO Tania Boler said, "The #FreetheFeed campaign is an invitation to everyone to stand with all those women that have felt shamed or confined when breastfeeding or pumping. We know the giant boobs will raise a few eyebrows, but we want to make sure no one overlooks the way that this stigma has been used to repress women."
The founders of the campaign hope the balloons spark conversations about breastfeeding and what it means to be a nursing mother and ultimately normalise it. Because they certainly made passers-by look up.