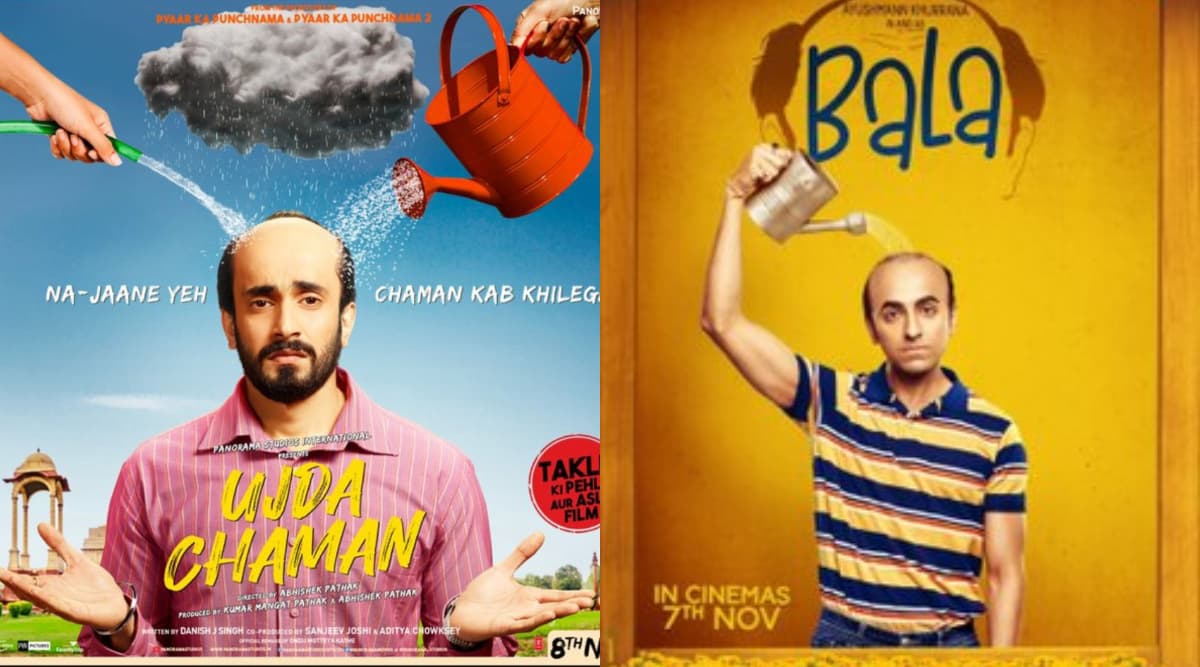 The biggest news of the day has been that this November, we will see a battle of the baldies as Ayushmann Khurrana and Sunny Singh will clash with Bala and Ujda Chaman at the box office. The trailer of Khurrana's Bala released today and it looks exactly like Ujda Chaman which is another film dealing with premature balding among men. While earlier Khurrana's film was slated for a release on November 15, the film will now be releasing on November 7, a day before Singh's film, thus ensuring a box office clash.  Ayushmann Khurrana's Bala vs Sunny Singh's Ujda Chaman Trailers: Who Will Win the Battle of Baldies at the Box Office?
It surely has been difficult to say which among the two films is better. While Ayushman's film looks more on the lighter side and his Shah Rukh Khan impressions surely make it more entertaining, Ujda Chaman looks like it has more to say about the stigma attached to premature balding among young men.
The clash of these bald men at the box office has turned out to be fun for netizens. Funny memes relating to the clash are now doing the rounds on the internet and we bet you won't laughing looking at these. Here are some that are sure to crack you up. Bala Vs Ujda Chaman: Makers of the Sunny Singh Starrer Call the Clash 'Unethical', Will Not Shift Their Release Date.
Same Same But Different?
After watching the trailer of #Bala and #UjdaChaman . pic.twitter.com/dHaof2ds5I

— Ritesh Surana (@SuranaRitesh) October 10, 2019
Hey There Bro!
#Bala and #UjdaChaman meeting each other pic.twitter.com/R4DRyKfJkE

— Sunny (@MemesMakethMan) October 10, 2019
Oppo Vs Vivo:
Left: Oppo

Right: Vivo#Bala #BalaTrailer #UjdaChaman #UjdaChamanTrailer pic.twitter.com/sdzlgXVZHH

— Yash Saboo (@YashSaboo7) October 10, 2019
Move Over Hrithik Vs Tiger:
Kids-#HrithikvsTiger

Men - #KrkvsSamosaBrother

Legends-#taklaVsTakla#Bala#UjdaChaman pic.twitter.com/slR2bJ3bjX

— Aman (@akshay0617) October 10, 2019
It's Going to be Bald-to-Bald This November!
#Bala and #UjdaChaman to go BALD-TO-BALD in first week of November.

Oh I meant head to head. 🤣🤣🤣😝 pic.twitter.com/vo7M5iVpGu

— Chachu Ka Ladla (@FakeRainaNephew) October 10, 2019
Thing That's Holding Bala and Ujda Chaman Together:
#UjdaChaman #Bala @saurabhshukla_s @ayushmannk pic.twitter.com/MNWz3N1eIe

— Harsh Panchal (@_hp321_) October 10, 2019
November is certainly going to be epic with this clash and it'll be interesting to see who wins at the box office. Tell us in comments about which film are you more excited for.