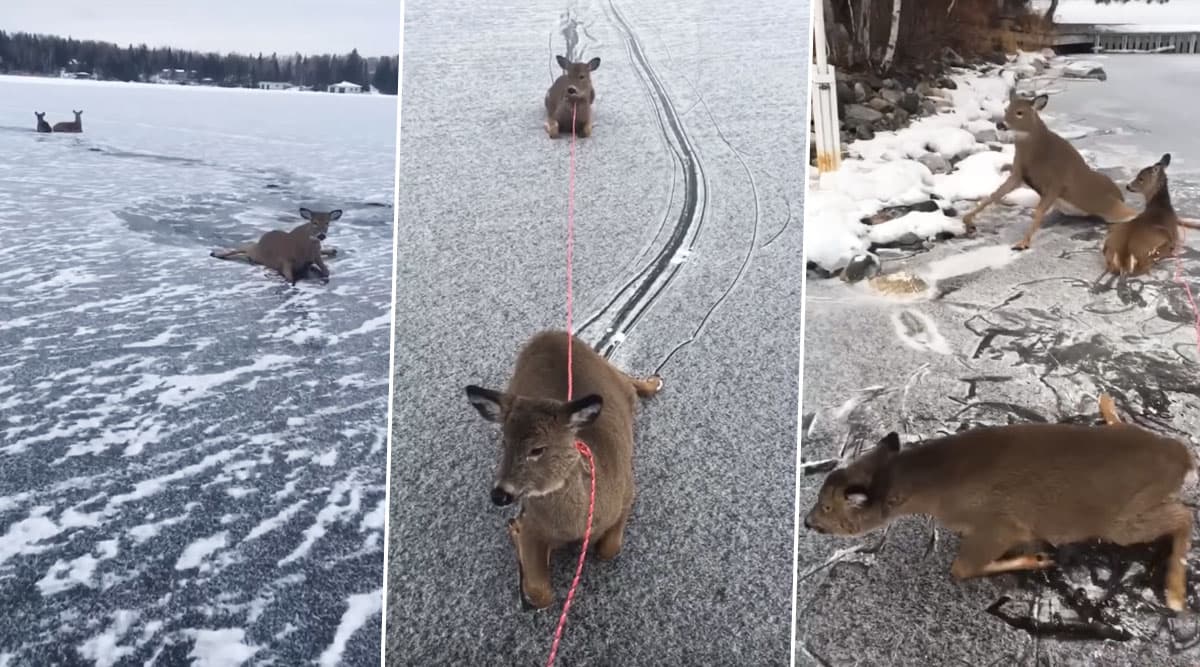 Parts of the world are gripped in severe winter this time of the year and Canada is one of them. A continuous spell of dropping temperatures in the region has turned the waterbodies into sheets of ice. And while people are able to cope with it by wearing as many layers, it is the animals who usually have a tough time braving the cold. Ryan Peterson one of the residents of Ontario who went out skating was stunned to find a family of deer stuck on the lake into the woods. The deer were splayed on the ice sheets and with no way for them to get up, Peterson decided to be their saviour. He made a video of how he managed to pull the three deers with the help of a rope. Soon as the footage came online, netizens have hailed him as a hero. Horny Situation! Two Deer Whose Horns Get Locked While Mating Freed by Hunter With Electric Saw (Watch Video).
Ryan Peterson decided to take a little adventure on one afternoon when he went out skating onto the waterbody turned to ice. While skating, he came across three deer who had their legs spread out on the ice, unable to lift them. They also seemed exhausted which is when Peterson decided to transport them to a safer patch. But it was not going to be easy, as they would not be able to get up and were clearly stranded. Plus, leaving them there would also mean they would become prey for the wolves from the woods. Peterson then headed back and got a tough rope. When he returned back an hour later, the deers were still at the same spot. He used the rope to pull them to the shore of the lake. A video of this has been shared on social media and people are calling him a hero. Viral Video of a Deer Trying to Have Sex with a Doe Figurine Before 'Blowing' Its Head off Has Netizens Come up with Witty and Punny Reactions.
Watch Video of Man Saving Deer Family Stranded on Ice:
The video was also shared on Twitter and is going viral, people calling him a real hero.
Best Boy!
This fellow is the best!

— Mike Newton (@NewtonGroupSM) December 17, 2019
A Good Rescue Story
Wondering whether it was difficult for them to stand because their legs were frozen from being in the water.

Love a good rescue story with a happy ending.

💕🦌⛸️🇨🇦

— Ms Lana🇨🇦 (@OoLaLana) December 16, 2019
Go Ryan!!
yay!! Go Ryan 😍🦌

— Danielle Smith (@DaniMcSmith) December 16, 2019
What a Hero!
true canadian hero!

— Nora Brooks (@Vivib19) December 16, 2019
Atta boy Ryan. Walk proud bro!

— Help Me Mommy (@HelpMeMommy4) December 17, 2019
There was also a certain risk of the deer kicking him which would only worsen his own condition. As you can see, the sheet of ice also thin so he had to be skating all the time. It must have been quite a task to tie the ropes around the deer while he was on his skates. "I went back to work and grabbed some rope. The ice was still too thin for any kind of vehicle, so skating was the only option," he told Storyful. On reaching near the shore, the deer tried their hard to get up after slipping time and again, but once they got the control they ran away into the woods.