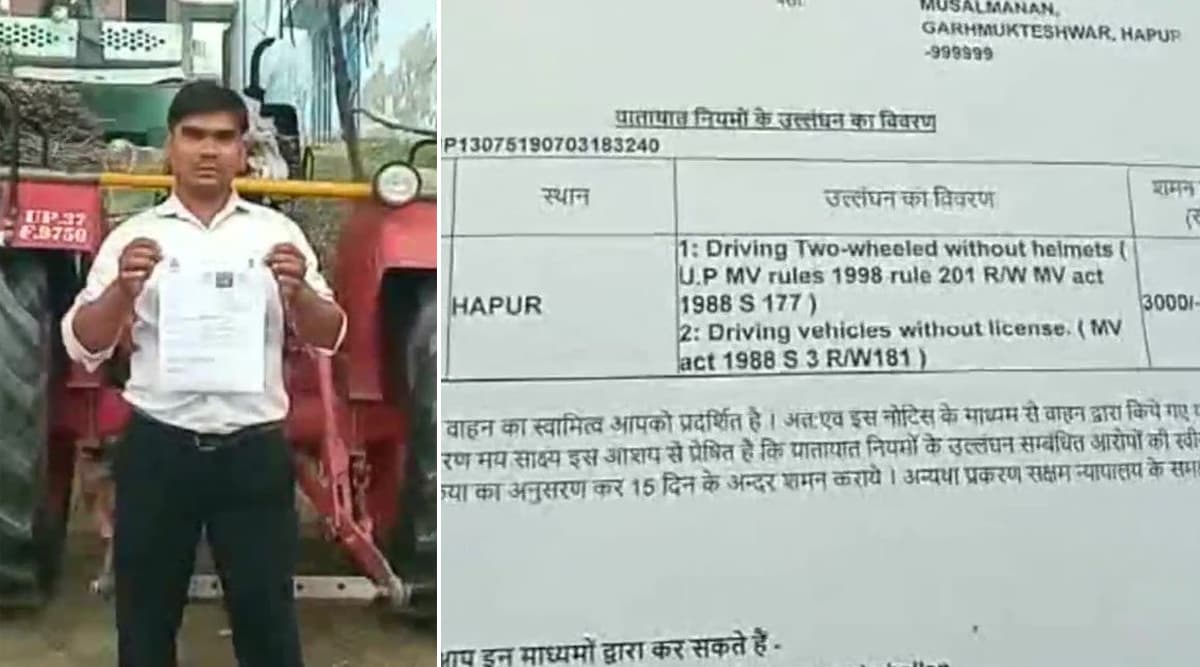 Lucknow, October 17: A man in Uttar Pradesh was fined Rs 3,000 for not wearing helmet while driving a tractor. The incident took place in Hapur district of Uttar Pradesh. The man, flabbergasted at being fined for not wearing a helmet on his tractor, tried to put his point across the debate with the traffic police constable, but to no avail. The traffic official who fined the man simply refused to hear the tractor driver's plea. Motor Vehicles Amendment Act 2019: Rs 1,41,700 Challan Issued to Truck Owner for Overloading, Highest Ever Under New MV Act.
The man who was fined was astonished when the traffic police official told him that he was getting fined for not wearing a helmet while driving his tractor. An image shared on ANI shows the man was fined Rs 3,000. After the man protested and shared his ordeal on social media, the concerned police authority said that the challan would be cancelled. However, the ANI tweet mentions that the man was not carrying his driver license as well. But there was no clarification on it by the officer. Motor Vehicle Amendment Act 2019: Vadodara Man Pastes All Documents Related to His Royal Enfield on Helmet to Avoid Fine, View Pics.
See the Pictures in the ANI Tweet Below
Hapur: A tractor driver, resident of Garhmukteshwar, claims that he was issued a challan for not wearing a helmet & not carrying a driving license. Traffic Incharge says, "I sought further info about it&got to know that it was a typographical error. The challan will be cancelled" pic.twitter.com/U7HBwrtux7

— ANI UP (@ANINewsUP) October 17, 2019
The tractor driver is a resident of Garhmukteshwar. When he learnt that he was challaned for not wearing a helmet on tractor, he immediately raised an alarm. The traffic police official said that it was a typographical error and assured the man that the challan will be cancelled, reported news agency ANI.