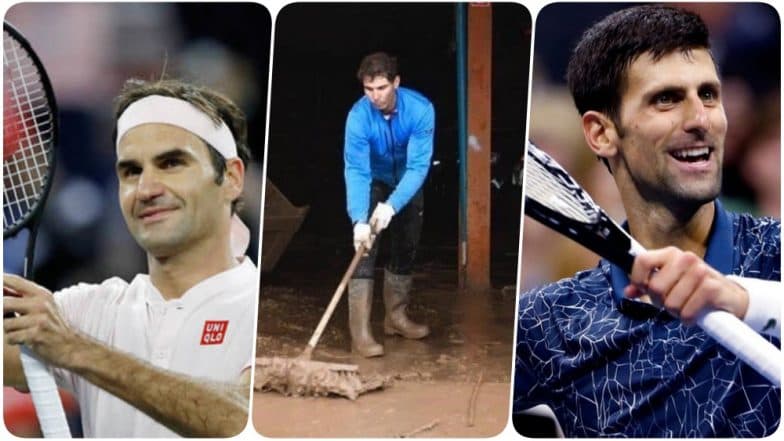 The Spanish village Majorca had been devastated by floods and the catastrophe has caused a lot of damage and has also claimed the lives of 12 people. Post floods, Rafael Nadal participated in the cleaning process of Majorca. Several pictures of Nadal went viral where he was seen cleaning the place wearing boots. The class act not only impressed his followers but also tennis legends Roger Federer and Novak Djokovic. Rafael Nadal's Cleaning Gesture After Floods in Majorca Floors Twitterati, See Pics. 
Roger Federer who is a part of Shanghai Masters 2018 in a video sympathised with the situation in Majorca and even spoke about Nadal's gesture. "I know how important Majorca is to Rafa and I have been in touch with him to see if I can help with anything. I have seen him helping in the village where he comes from and to see that is super-inspiring. Rafa, you have our support. We are thinking of all the people in Majorca. We wish you strength in these difficult times and I hope to be back on Majorca soon," he said in a video message.
Even Djoko had a video message for Rafael and the people of Majorca. "A big hug and friendly regards to Rafa and well-done amigo for helping out.I invite anyone to give their support in any way they can. Gracias," he said.
🗣@DjokerNole has a message for those affected by the recent tragic events in Majorca. pic.twitter.com/IwW1v3r1Hp

— ATP World Tour (@ATPWorldTour) October 11, 2018
Nadal is currently out of action due to an injury that occurred to him during the US Open 2018. He Spaniard even went on to withdraw his name from the David Cup 2018 and China Open 2018.