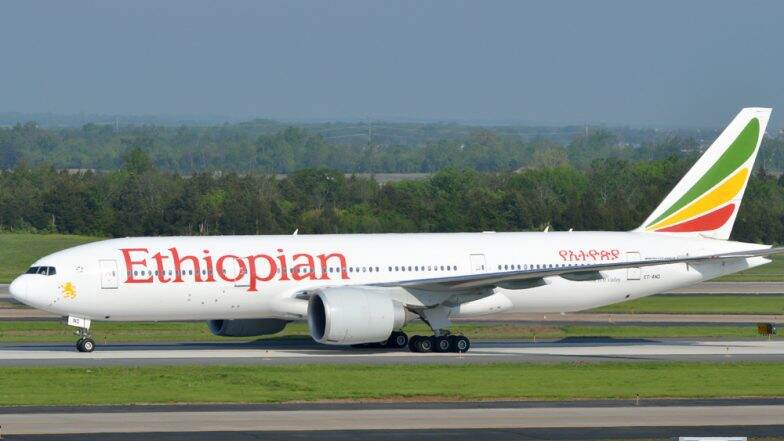 Beijing, March 11: China on Monday grounded all Boeing 737 MAX 8 jets, after an Ethiopian Airlines plane of the same model crashed on Sunday killing 157 people, acting on its principle of 'zero tolerance for safety hazards.' According to reports, China's civilian aviation authority has ordered all Chinese airlines to ground Boeing 737 Max 8 planes after the deadly crashed. On Sunday, a Nairobi-bound Boeing 737 was carrying 149 passengers and 8 crew members on flight ET302 from the Ethiopian capital to Nairobi in Kenya. The tragic incident took place shortly after from Addis Ababa. The Boeing 737 took off from Bole International Airport at 8:38 am after which no contact was established with the flight after 8:44 am. Ethiopian Airlines Flight ET302 En Route to Nairobi from Addis Ababa Crashes With 149 Passengers And 8 Crew Members on Board, No Survivors.
Reports inform that fliers from 35 countries were reportedly on board flight ET 302 when it ploughed into a field 60 kilometres southeast of Addis Ababa. Among the 157 dead, four were Indians. The ones killed in the crash included tourists, business travellers, and the United Nations Development Programme (UNDP) consultant attached with the Environment Ministry, Shikha Garg, who was on her way to attend a United Nations Environment Programme (UNEP) meeting. Ethiopian Airlines ET 302 Flight Crash: Four Indians Among 157 Killed in Kenya-Bound Plane Crash.
Ethiopian Airlines Crash: Facts to Know About the Controversy Involving Boeing 737-MAX Aircraft:
According to reports, the pilot of Ethiopian Airlines flight ET 302 had noted technical difficulties and asked for clearance to return to Addis Ababa, said Tewolde GebreMariam, CEO of the airlines. The Ethiopian Airlines said Kenya had the largest number of casualties with 32, followed by Canada with 18, Ethiopia nine, then Italy, China, and the United States with eight each. Among other countries, Britain and France each had seven people on board, Egypt six, and Germany five. Twelve countries in Africa and 14 in Europe had citizens among the victims.