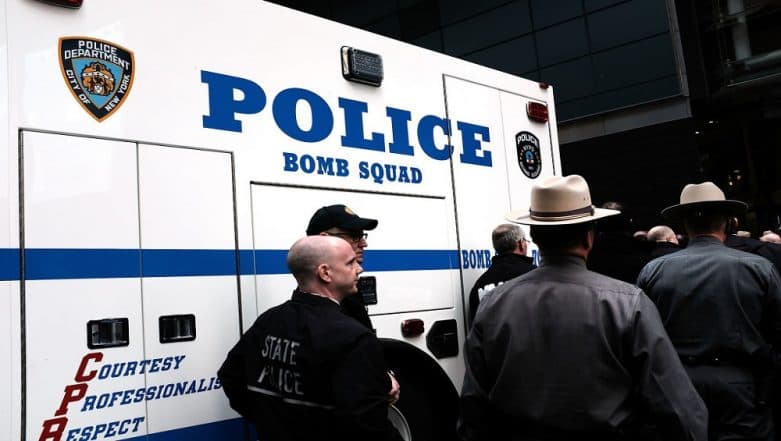 Washington, October 25: In a case of unprecedented political violence ahead of the upcoming US midterm elections, political opponents and noted detractors of President Donald Trump have been targeted with "explosive devices". Although no injuries have been reported so far, some of the cases were a close escape as the explosives-laden packages had almost reached the targets.
The latest to join the fray of targets is actor Robert De Niro, who has often condemned President Donald Trump for his ultra-conservative views and derogatory statements against migrants.
The New York Police Department on Thursday cordoned off the locality in Tribeca, where De Niro's restaurant is based. CNN Shuts Office in New York Over Suspicious Package Containing Live Explosive And White Powder.
The NYPD and intelligence have suspected the involvement of far-right elements behind the suspicious packages sent to influential personalities in the past couple of days.
List of Trump Detractors Targeted so Far With Explosive-Laden Packages:
Former president Bill Clinton

Former secretary of state Hillary Clinton

Former president Barack Obama

Media outlet CNN's office headquarter based in New York

Ex-CIA Director John Brennan

Democrat Congresswoman Debbie Wasserman Schultz

New York Governor Andrew Cuomo

Philanthropist George Soros

Democrat Senate Maxine Waters

Attorney General Eric Holder
In wake of the attacks, President Trump has toned down his rhetoric against the political opponents, and instead pitched for "unity" to safeguard the US democracy.
Assuring a crackdown on those involved in such attacks, Trump said the "culture of violence" stands in stark opposition to the principles of US polity. "Any acts or threats of political violence are an attack on our democracy itself," he added, while addressing a campaign rally in Wisconsin on Wednesday.