The teaser trailer of Mission Mangal was dropped couple of days back and it has upped all the excitement that the movie lovers had right from the time the film was announced. The film stars Akshay Kumar, Vidya Balan, Sonakshi Sinha, Taapsee Pannu, Nithya Menon, Kriti Kulhari and Sharman Joshi. Touted to be India's first space film, Mission Mangal tells the story of scientists at Indian Space Research Organisation (ISRO), who contributed to the Mars Orbiter Mission also called as Mangalyan, which was India's first interplanetary expedition.
While everyone had nice things to say about the teaser trailer, it's the reaction of ISRO that has grabbed the attention. Akshay shared the video on his Instagram account and commenting on his post, ISRO's handle wrote, "Ek Desh. Ek Sapna. India to be a space superpower. Few Days to go for achieving new Milestone! #Chandrayaan2," highlighting its Chandrayaan 2 launch, which is scheduled to take place shortly. Akshay replied them as he wrote, "Sky has never been the limit for @isro.in! All the best to the team for #Chadrayaan2." 'I Would Have Loved To Create A Controversy,' Says John Abraham On Clashing With Akshay Kumar This Independence Day.
Check out the screenshots right here: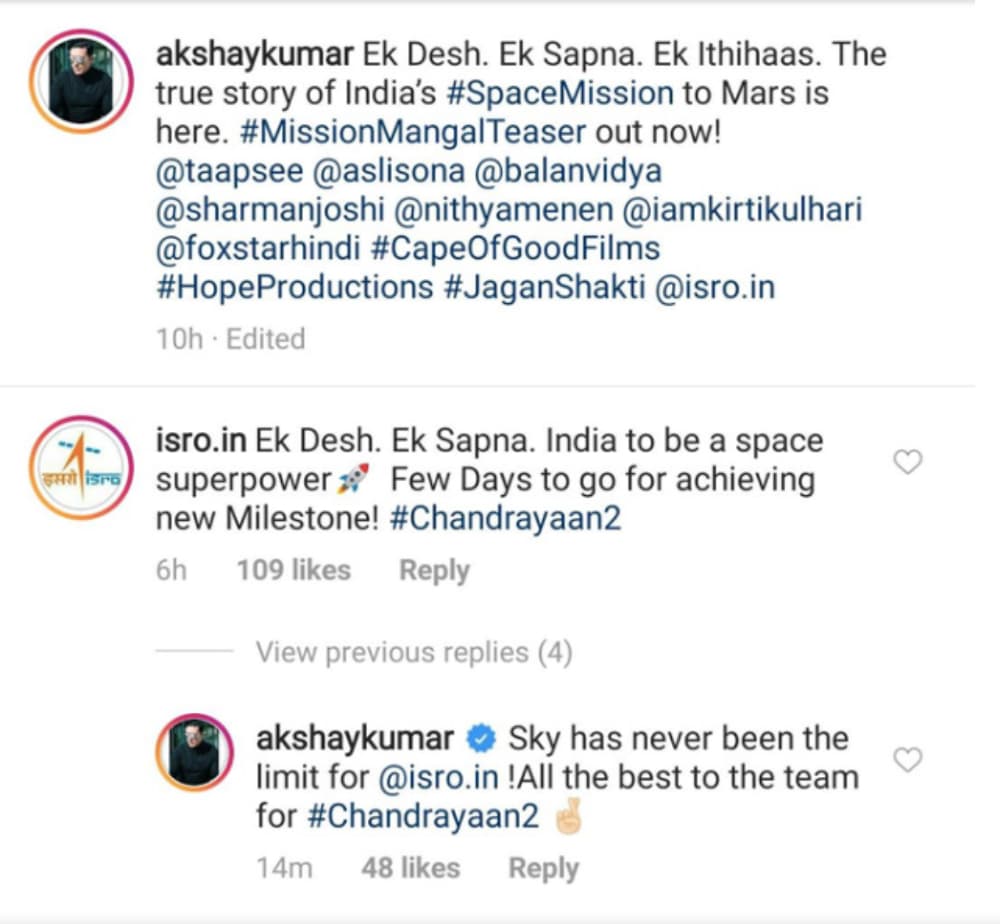 Here's the teaser trailer of Mission Mangal, in case you missed it:
Talking about why he chose to do this film, Akshay, in an interview with The Times of India said, "Few people know NASA sent a satellite to Mars for close to Rs. 6000 crore, and ISRO did it in only Rs. 450 crore. Just see the difference.. A little common sense, and we saved a lot of money. Can you believe this story has not been told yet? I want to tell it, that's why I came on board."
He also added that this movie belongs to the actresses and to the women, who were a part of Mangalyaan. "This is a work of 17 engineers and scientists at ISRO. While listening to so many real stories of women scientists, I found it amazing how they managed their homes while being so incredible at work. Through this film, I want to tell them that they're great. This movie belongs to these five girls , played by Vidya Balan, Sonakshi Sinha, Taapsee Pannu, Kirti Kulhari and Nithya Menon. This is their movie," he was further quoted. Directed by Jagan Shakti, Mission Mangal will release on August 15, that is the Independence Day.