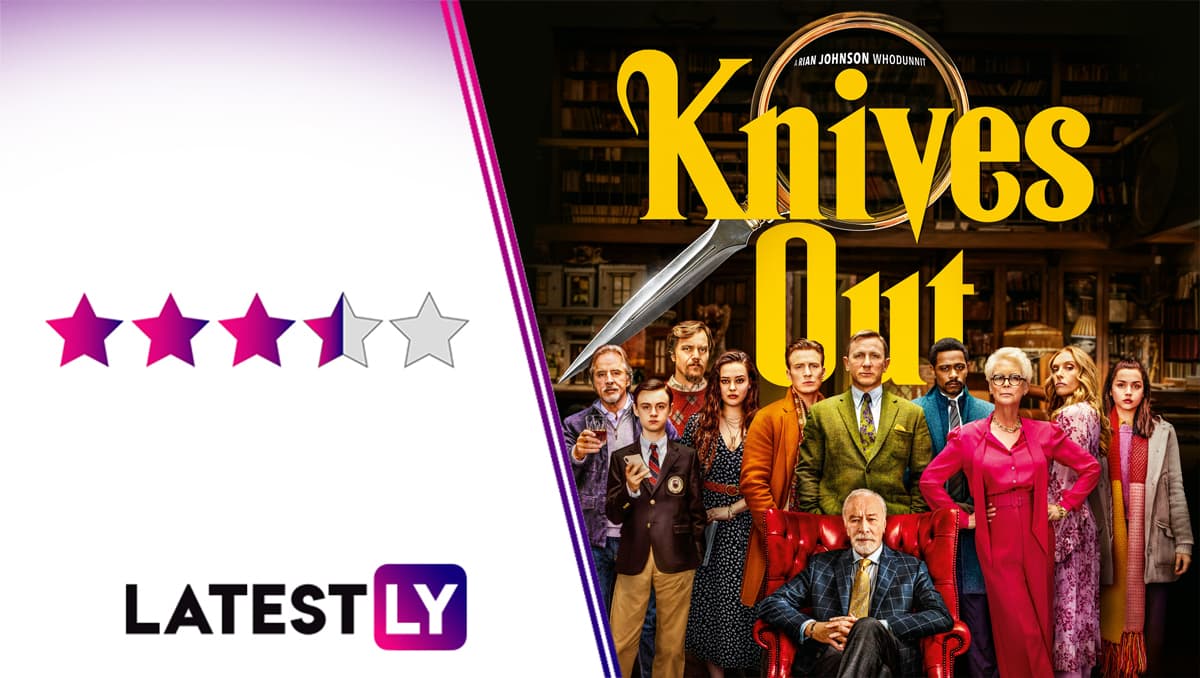 Knives Out Movie Review: Knives Out doesn't waste much of your time and comes straight to the point. With a body lying in a pool of blood, it establishes a premise while you are still lost in your thoughts or settling down in your seat. The trailer of Rian Johnson's whodunit was intriguing enough to attract a sucker for thrillers like me. A classic murder mystery never goes out of style but it all depends upon how the director decides to treat his subject. The more careful he is, the better the final outcome is. So did Johnson's new release manage to woo an ardent Agatha Christie fan like me? You are about to find out.
The story starts with the death of Harlan Thrombey (Christopher Plummer), who's an accomplished author known for his murder mysteries. His mysterious death on his 85th birthday invites an investigation and that's when we meet a private investigator Benoit Blanc (Craig) and detectives Elliot (Stanfield), and Trooper Wagner (Segan). The murder enquiry is never an easy task especially when the victim's entire family comes under suspicion. The investigation then follows a turn of events that finally lead us to the killer and well, it's a beautiful mystery, which we shouldn't and wouldn't spoil for you. Knives Out Trailer: Chris Evans and Daniel Craig's Star-Studded Film Adds a Dangerously Stylish Spin to Agatha Christie's Murder Mystery.
The biggest USP of Knives Out is Rian's storytelling. He probably borrows the quality from Agatha Christie, who's known for penning some riveting murder mysteries. It's a tedious job to keep your viewer intrigued right until the end without letting him guess who the murderer is. You need to engage him by giving him enough hints that would lead him to nothing. And in Johnson's case, he doesn't merely succeed but also takes your expectations and experience a notch higher.
Knives Out has plenty of "wow" moments and credit in part goes to its writer-director, Rian Johnson again. He does a commendable job in establishing a vile premise filled with some crooked minds. A mansion, with its old-world charm, squeaky stairs, elegant carpets and dark corridors, provides a perfect setting for a plot this daunting. You may guess what's lying in store for you ahead but trust the writer to confound you. He even mocks your imagination every time you think you have got it right. He keeps playing with your mind while presenting his list of most probable suspects.
The premise starts off on a great note, inches towards being extraordinary and finally offers the director's prowess as a brilliant writer towards the climax. Not that he presents an out-of-the-box version but something more believable. He carefully establishes the crucial detailings while helping us inch closer to his killer. He builds the momentum and finally makes the big revelation that you saw coming yet you didn't. The big mystery startles you - in a good but not in a great way. More on that later.
The background score is another crucial aspect that goes hand-in-hand with the film's mysterious plot. You know the plot is far deeper when the director actually shows you how the murder is committed. But you are left scratching your heads as the mystery can't be so easily unravelled and that too right in front of your eyes, right?
Knives Out has a riveting screenplay. Johnson disperses enough hints throughout the film's run time that boggle your mind. The narrative gets twisted, even confusing at times but you need to keep sailing and follow the director's ship that never sinks. You keep guessing the killer's name until he lends you a helping hand. His approach is terrific, something that's quintessential for such nail-biting thrillers.
Coming to the film's star cast, Craig as Benoit leads the pack with his suave demeanour. He shines in his scenes while stealing everyone's thunder occasionally. Chris Evans as the victim's eldest grandson is sharp and fun. You may hate his snobbish character but you'll end up loving his performance. Ana de Armas puts up a good act when she blends vulnerability with honesty.
Toni Collette as the victim's daughter-in-law and a wild mother is jocular.
Other actors namely Jamie Lee Curtis, Michael Shannon, Don Johnson, LaKeith Stanfield, Christopher Plummer, Jaeden Martell, Riki Lindhome, Edi Patterson, Frank Oz, and Noah Segan are equally delightful. However, Katherine Langford is a weakling. Blame her poorly written character but she's utterly wasted and underused throughout the film.
Check Out the Trailer of Knives Out:
From a director who has previously given us a gift in Star Wars: The Last Jedi, it was essential for him to live up to our expectations and fortunately, he doesn't disappoint. Having said, the film has a few negatives here and there. While the pre-climax is ingenious, the other half seems gimmicky. It could have been tighter. Though Johnson ruffles some feathers and presents an unexpected twist, my mind craved for something sharper or maybe bolder.
The revelation though astounding didn't satiate me as a mystery lover nerd. But guess, a masterpiece like this deserves few flaws to be overlooked. Overall, it's an intriguing film with some fine performances.
Yay!
-Chris Evans and Daniel Craig
-Rian Johnson's Direction
-Screenplay
-Background Score
Nay!
-The build-up for the mystery is good but the revelation isn't
-Katherine Langford
Final Thoughts
Knives Out is a whodunit that deserves a place in your weekend watch-list. Rian Johnson weaves magic with his murder mystery that's bound to leave you spell-bound. Book your tickets right away.