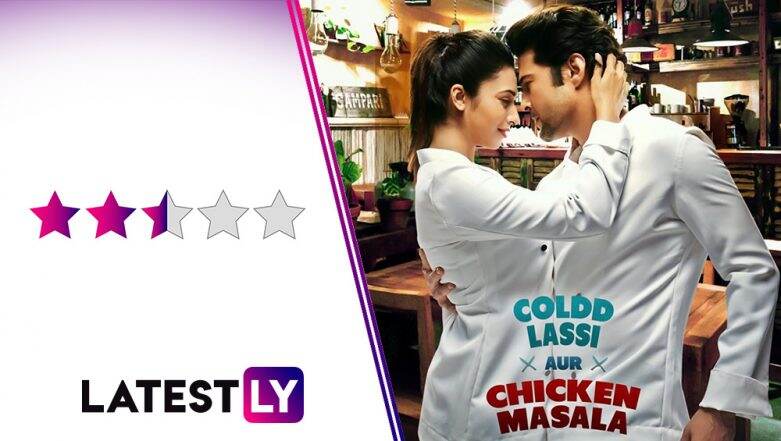 Coldd Lassi and Chicken Masala Review: Nithya (Divyanka Tripathi) is the head chef at the Indie Spice. While talented and all, her anger is often at the tip of her nose and some of her irate customers and her flustered employer (Manini Mishra) often bear the brunt of it. She is also a single mom to a precocious eight-year-old kid. Then re-enters in her life and her restaurant is Vikram (Rajeev Khandelwal), the new owner and the head chef. They have a troubled past together, which is threatening to affect their present work situation. There is also the matter that the kid happens to be Vikram's son too. ALTBalaji's Coldd Lassi Aur Chicken Masala New Song: This Divyanka Tripathi-Rajeev Khandelwal Number Is A Beautiful Heartbreak Melody!
Will Vikram and Nithya manage to sort out their ego hassles or will they spoil the broth with their tiffs? The first season doesn't exactly answer that completely, though it does serve some enjoyable moments in what is a quite uninspired dish.
For a show to work, if we have to speak in culinary terms, it needs to have the right ingredients and a good recipe, not to mention, the deft hands of a fine cook. At least, Coldd Lassi and Chicken Masala, directed by Parineeta fame Pradeep Sarkar, nearly gets the first part right. Both Divyanka Tripathi and Rajeev Khandelwal are capable performers and likeable actors. I have not followed much of Ms Tripathi's work on her popular show, Yeh Hai Mohabbatein, but am pretty sure that she doesn't drop the F-word there or show her middle finger with abandon. So going by that, this is certainly the sauciest we get to see the actress in. At a couple of moments in the show, like when she drunken roasts Vikram, Divyanka goes slightly overboard. But otherwise, she pitches in a fine act, showing great dexterity in both emotional and flirty scenes.
Rajeev Khandelwal is an actor, who hasn't managed to capitalise on a Bollywood career despite being quite talented. In Coldd Lassi and Chicken Masala, he has two facets of a character to portray. As the suave new boss of Nithya high on an ego trip, Rajeev is quite classy and convincing. He is not so convincing in the flashback portions though where he has to play a streetsmart character who is a naturally talented chef. It has less to do with the talents of the actor, but more to do with the fact that he looks older for the age that Vikram is portrayed in these portions.
The best thing about the show is the saucy-hot chemistry that these two actors share with each other, making even the blander scenes look spicier. Their romance may not boast of better writing, but the actors make it look so delectable. Like in the restaurant date scene in the flashback portions. Or when Vikram and Nithya together watch the video of their kid at the former's house.
Coldd Lassi and Chicken Masala also has a glossy, appealing look overall, and an indulgent producer in Ekta Kapoor. All it needs to do is get the recipe right, and here's where things don't really mix well.
For one, there feels nothing original about the series, which begins with ripping off a popular scene from Dulquer Salmaan's Malayalam film Ustad Hotel involving an angry customer and a live rooster. Then Coldd Lassi and Chicken Masala becomes an uneven batter of Catherine Zeta-Jones' No Reservations, Salman Khan's Sultan (I kid you not!) and the oldie goldie, Ek Hi Bhool, which starred the producer's father, Jeetendra. Not to mention, a dash of Abhimaan!
Look, it really doesn't matter how 'inspired' your product is, if the treatment is extremely interesting and the narrative is filled with surprises. Alas, in the case of Coldd Lassi and Chicken Masala, it is predictable from scene one, as to where it is heading. The back and forth narrative could have worked in the show's favour, had the threading been done well, which isn't the case here. Even the cliffhanger scene at the end of season 1 (no spoilers) is hardly shocking enough, unless you compare it to TV soaps standards.
More disappointing is the fact that the romance isn't very well etched either, especially the way it is conceived. In the flashback portions, Vikram is shown as this over-aged MCP stalker who refuses to back down till he wins his lady's kiss. And the love story actually begins when Nithya realises that he is a virgin and decides to take charge of it. Till then, we are given no inkling that she actually cares for his feelings, even if she is impressed with his culinary skills. I agree that you have a bold female lead here, but it would have been better if her motivations were clearer. In comparison, the present-day scenes between Vikram and Nithya were better written. ALTBalaji's Coldd Lassi Aur Chicken Masala: Divyanka Tripathi Says The Response Received Has Been Overwhelming!
Coldd Lassi and Chicken Masala wants us to think it's forward, with the lead being a single mom, characters having one-night stands and liberal usage of f**ks. Yet we have Nithya ask Vikram if he is gay, because he can make good food! Considering she is a hotel management student, Nithya, out of all the people in the world, should know that really is not the case! Apart from this homophobic slur, there is also a very old-school inclination of the show towards the idea of abortion as such, that would make the pro-life groups in the USA quite happy. But the biggest WTF moment in the show is when Coldd Lassi and Chicken Masala decides to involve in some romantic reconciliation and unwanted comedy using a terror attack in the city. I mean, these characters are so impervious to the casualties and the deaths that happen, that you would wish these people truly deserve their little inconveniences.
While I did say that Coldd Lassi and Chicken Masala has a glossy look overall, especially all the interior portions there are a couple of instances where you can spot out the fake background screens, especially in the exterior shots. Also, for a show that is based around food, I did feel this aspect is slightly underused as an advantage, though I did find the red chilli cake strangely appealing.
Yay!
- Rajeev Khandelwal and Divyanka Tripathi
- Their Chemistry
- The Glossy Feel
Nay!
- The Predictable Tone
- Unoriginal Premise
- Some Orthodox Elements
- Deserves Better Writing
Final Thoughts
Coldd Lassi and Chicken Masala is a dish I recommend only if you are a fan of the leads stars, Rajeev and Divyanka, who do well with their parts. Otherwise, the show doesn't manage to bring in enough tadka to a premise that is supposed to be about love and food! You can watch Coldd Lassi and Chicken Masala on both ALTBalaji and Zee5, where it is streaming all the seven episodes of the first season.