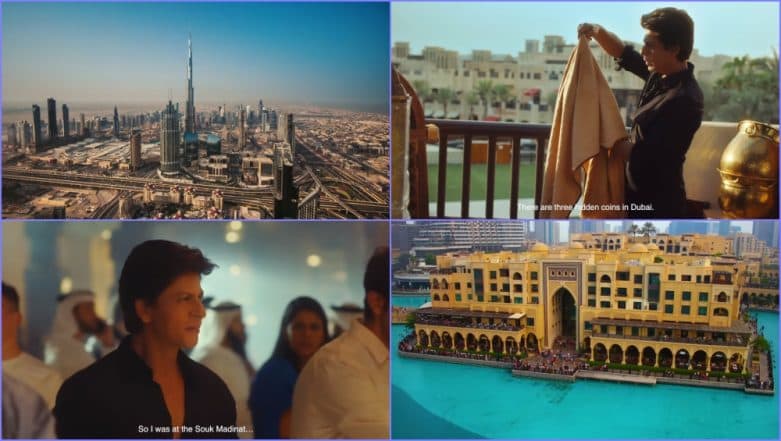 Shah Rukh Khan is the ultimate king of romance not just in India, but the world over. In Dubai he enjoys the unquestionable status of the ultimate King. No wonder the man is the face of Dubai tourism. The 54-year-old is back in the city of gold to uncover a secret. In Souk Madniath he is handed a challenge by a mystery girl and that sets the superstar on this interesting quest, that's how the story unfolds!
This video is really interesting and intriguing.  This commercial is beautifully shot as SRK travels across the city to find the coins he must lay his hands on. Unlike the previous outing to promote Dubai, this one tells a rather mystery tale that will have fans --of both Dubai and SRK--absolutely hooked! "I am back in my favourite city, but this time to unravel a secret as old as Dubai. Stay tuned #BeMyGuest. #visitdubai @visit.dubai," wrote SRK in his Instagram post.  Amitabh Bachchan and Shah Rukh Khan Click An Iconic Selfie As Badla's Actor-Producer Combination (See Picture)
King Khan of Bollywood, just like Saint Nick, needs no introduction and the popularity he enjoys is absolutely universal.  This commercial will use that credibility of his to promote Dubai. The initials, SRK that is,  are enough to send people into a frenzy. Such is the SRK mania! Fans Shipping Lady Gaga & Bradley Cooper Must Know Mother Monster Once Rejected Shah Rukh Khan Because He Is Married!
Lastly, from Mumbai to Miami and from Tokyo to Toronto, the man commands attention like no other celebrity in the world! And closer home, in Dubai that is, Shah Rukh Khan is the ultimate god that never fails to charm his devotees!