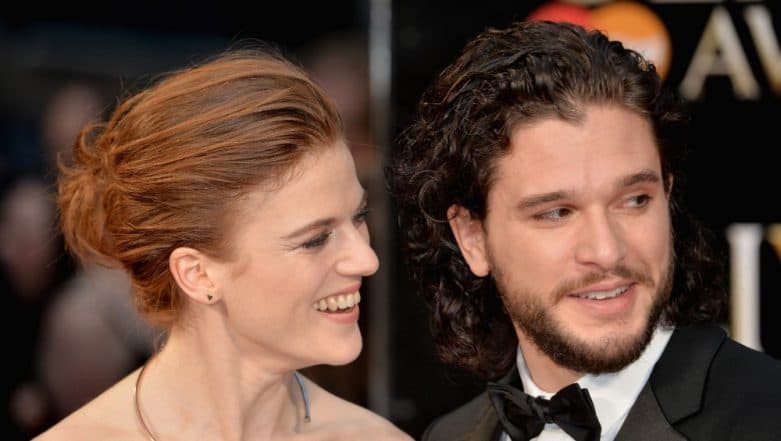 Game of Thrones power couple, Kit Harington and Rose Leslie who play Jon Snow and Ygritte in the American fantasy drama are known for being relationship goals. Pictures and videos of their PDA-filled sessions often make fans go green with envy, but the duo has been going strong not letting anything come in between them. But there is one time when Rose threatened Kit and asked him to never repeat one thing he did. And going by what Kit did,  you can say that she was right. It was April Fools' Day and Kit played a cruel prank on his then to-be-wife. The incident happened in 2017 and with April 1st approaching we can help but think about the terrible prank all over again. And here's a gentle reminder to those planning to take inspiration from his prank: PLEASE DON'T. April Fools' Day 2019: Are You Born on April 1st? You Are Not Alone, Here Are Famous People Born on the Same Day.
Kit had appeared on Jonathan Ross Show when he revealed the sinister joke he played on his wife. The video shows an unsuspecting Rose opening the refrigerator to take out a water kettle. She picks it up and then screams out loud, after seeing something. She sits on the floor panting trying to catch a breath. Kit had kept a prosthetic severed head of his Game of Thrones character inside, probably referring to how Kit never got killed in the series while most of the other important people in the show did. Whatever be the theory, Rose got the fright of her life. April Fools' Day 2019 Memes: These Lit April 1st Jokes Will Make Your Day If You Love to Prank People.
Check out our #FlashbackFriday story where Kit Harington's pranked Rose Leslie:
And explaining the incident, Kit says, "My family does April Fools'. Her family doesn't do April Fools'. She didn't know the date and after that, she was in tears. And I was there going, 'April Fools!' It didn't go down well. She pretty much told me if I ever did anything like it again that would be it, and I think that's marriage included." No April Fools' Day Pranks At Microsoft Workplace; Internal Memo Issued As Warning To Employees.
Checkout list of celebrities born on April Fools' Day here:
He adds saying, " After that, she was in tears and I was going, 'April Fools. It didn't go down well. She pretty much told me that if I did it ever again then that would be it, and I think that's marriage included," Harington said of his prank. The couple married in June 2018, and a number of Game of Thrones co-stars had attended the wedding. We hope you neither prank people similarly and nor get pranked this way.