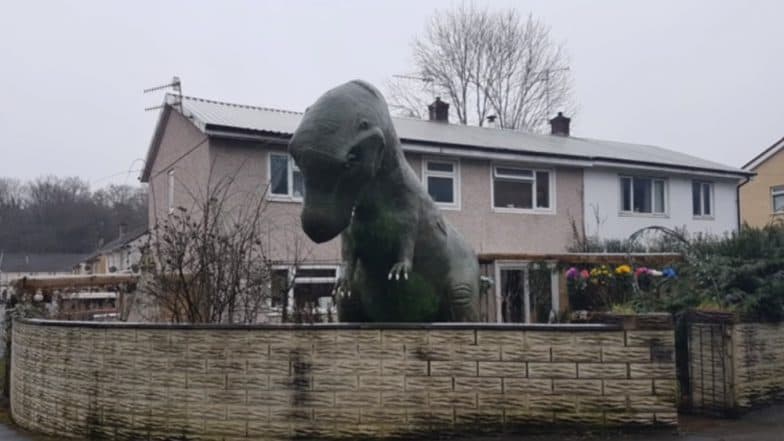 In a bizarre incident, a man installed a life-size dinosaur outside his home in Cwmbran, Wales. Part-time gardener, Jerry Adams bought the 15-foot long plastic dinosaur from a charity auction. Alun, the Allosaurus was sold to accommodate new arrivals at Dan yr Ogof caves. The money with which Alun was bought will go to a diabetes charity JDRF UK. With the arrival of the dinosaur, Jerry, a grandfather has become quite popular in the neighbourhood.
Children and adults are equally flocking the house to catch a glimpse of the dinosaur. Kids seem to be really excited at the sight of the plastic animal. It seems soon Jerry's house will become a popular landmark. He said, "It's been mad. It's brought the community together." People are coming just to take photographs with Alun and everybody is keen to know the story behind the installation. Name a Dinosaur After Yourself but you Need £1,000,000.
Watch the video below:
Jerry has 12 grandchildren of which three of them have Autism Asperger and hence they try to make the house more playful for them. With the arrival of the dinosaur, Jerry hopes his grandchildren can play in and around the house. All of them are quite excited to have the dinosaur in their front yard. Talking about the dinosaur, Jerry said, "It did be a fantastic garden ornament so I decided to bid on this. We are planning to make a slide on its back and a little trapdoor on the bottom." Jerry didn't expect so much media attention for his installation and is quite glad that people liked it.