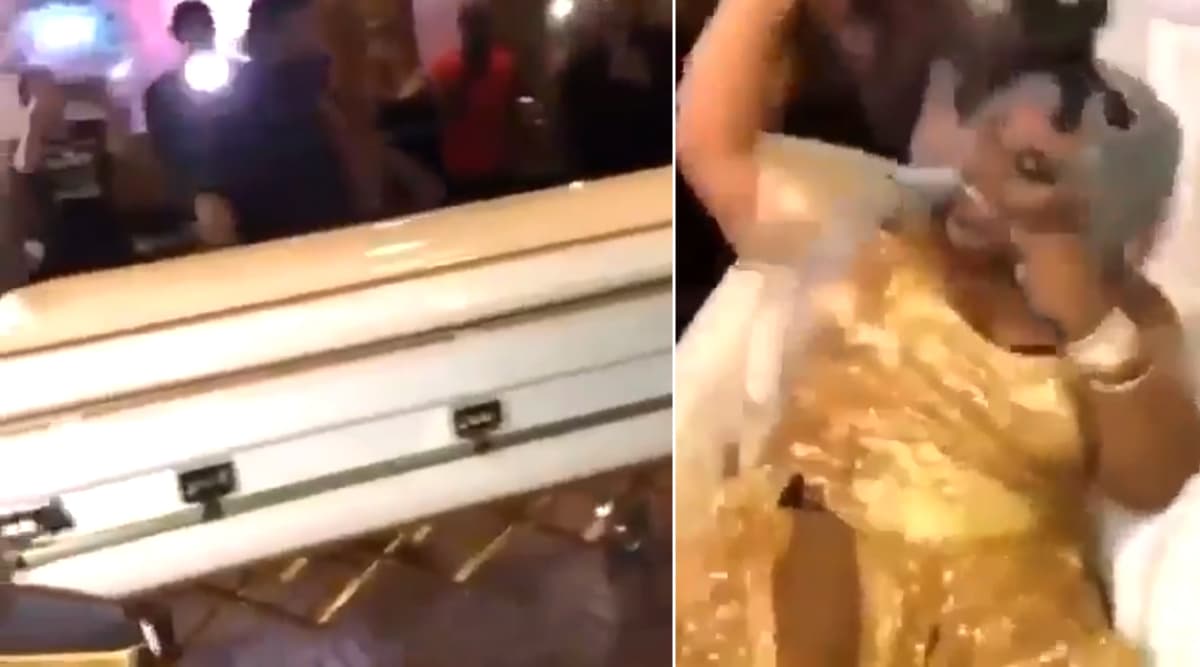 "Until death do us part," a famous phrase from the wedding vows has just gone extreme literal for this Ghana couple. On their wedding day, the bride decided to arrive in a coffin. While the names and identities of the couple were unknown, people on the internet are blown up by this lethal entry at the venue. As the hilarious video went viral, netizens said in unison, that even death cannot do the couple apart. We saw it why and how! The clip has surfaced on the social media platforms garnering thousands of views and comments. And watching this unconventional entry, the count in no way seems to end here. Badass Brides' Videos: From Donning Shorts to Doing Belly Dancing, These Brides Could Serve an Inspiration to Many. 
The nearly one-minute video started showcasing the white coffin, the borders of which are adorned in golden colour. The moment it opens, the happy bride is seen getting up. Wearing a gold sequin thigh-high slit dress, the bride seemed to pose cheering along with her friends and family who gathered at the ceremony. It was a rare sight to behold, captured and certainly share on social media. The creativity level has received tremendous response from the netizens. While some were spellbound and confused as to how to react, others pointed the phrase, "until death do us part." Couple's Congo Civil War-Themed Wedding Photoshoots Are Labelled As 'Insensitive'; Netizens Are Hating the Racist Viral Photos. 
Watch Viral Video:
- Bride arrives her wedding in a coffin.pic.twitter.com/6c8Sgp1AnA

— Postsubman (@Postsubman) November 16, 2019
Check the Reactions:
At a point, I expected thunder to strike her so she could be dead for real.

This is sick

— MAAZI 'LyonS 🦁👑 (@femillionz) November 16, 2019
LOL!
😂😂

Wetin Undertaker no go see for WWE

— Man Like Caxhy (@FafoOluwatosin) November 16, 2019
Oh Sure Can't!
"Till death do us part" ???Nah.

"Even in death, we parteth not"

— R∀GNAR❍K (@JonsingMan) November 16, 2019
You Got That? 
She just put "over my dead body will I marry him " into actions

— ira💛 (@samuelle_ira) November 16, 2019
As hilarious the video may come across, the happiness on the bride's face cannot be ignored. She had a savage entry at her wedding and is extremely happy to begin another phase with the love of her life. Weddings are supposed to be momentous and this one sure for one, not only for the pair, but also for the viewers, who have rarely seen such sight. We wish the couple a happy and joyous married life.