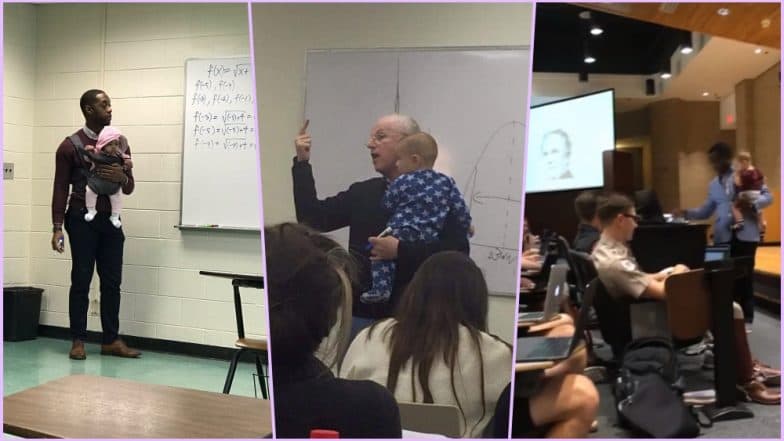 Most of the time, mothers/ fathers experience their babysitter bail at the last minute. You are all set for your office time or an important meeting, comes a call of your caretaker, asking for a day off. You indeed have no choice but to grant her leave. But what's next? Much like a most parent, Wayne Hayer too was bewildered when his caretaker did not show up the last-minute. He works two jobs and is also a full-time student. Leaving with no choice, Wayne took his daughter to attend his lecture. He did not have any trouble to take down his notes because his professor was taking care of his baby. Dr Nathan Alexander, Math professor of Morehouse College in Atlanta reportedly said, "I'll hold her so you can take good notes!" to Wayne who showed up to class with his baby. He just reminded us of all the times when professors in the recent past turned babysitters in class. Former Tokyo University Professor Goes on 'Only Fruit' Diet For 8 Years, Now Claims to Have Become Superhuman. 
According to Wayne's Facebook profile, he studies Kinesiology and Physical Education at Morehouse College, an all-male historically Black college. He had to bring his daughter Assata to the class because he could not find a caretaker for her. Alexander, a mathematics professor, reportedly held Assata for about an hour during the class. The professor told BuzzFeed he was nervous about taking care of the baby girl, but it all went well. "I was worried that she would start crying," he said. "But it actually went perfectly. She was extremely well-behaved," he added further.  Dog Holds His Owner's Hand While Crossing The Street in Nepal.
Teaching Goals
Student came to class today with his child due to no babysitter or anybody to watch her while he was in class.

My professor NATHAN ALEXANDER said "I'll hold her so you can take good notes!" #HBCU #morehouse #Respect pic.twitter.com/oogIqetseS

— TheOriginal™ (@Original_Vaughn) March 1, 2019
Wayne's wife Firda Amalia shared their struggles while thanking Professor Alexander for his kindness.
Parenting while being a student has its share of struggles and the incident resonated with many. There were many times, when teachers were seen compassionately taking care of their students' babies while also conducting lectures.
The Hebrew University of Jerusalem's Professor Dr Sydney Engelberg, Jerusalem
In 2015, a picture of a lecturer from Jerusalem's Hebrew University holding a baby was viewed millions of times online. The story behind it is really touching. While attending the class, a student's baby son started crying. The mother reportedly stood up to leave, but Professor Sydney without a blink, took the baby in his arm and carried on teaching. It was Sydney's daughter, who captured the moment and posted on Facebook, which was viewed over a million times.
Lander University Professor Dr Josie Ryan, South Carolina
When Sarah Thompson, an applied mathematics major at Lander University gave birth to her first child during the second week of class, her professor encouraged her to bring the newborn to class to make it easier on her. Although, initially she dismissed her professor's suggestion until one morning when she finally took the baby to the lecture. That is when Dr Josie picked up the baby, who was sound asleep and taught the entire class like that.
Texas University Lecturer Dr Henry Musoma, Texas
One fine morning, the mother of the baby Ashton Robinson, a student at the Texas A&M University reported she struggled to find a last-minute babysitter. Hence, she emailed her professor Dr Henry Musoma explaining the reason why she could not attend the lecture. But to her surprise, the lecturer asked her to bring her baby along. Professor Henry babysat the child while delivering his lecture at the same time.
Baylor University Associate Professor Darryn Willoughby, Texas
After her babysitter cancelled, Katy Humphrey brought her four-month-old daughter Millie to class. During the lecture, she started to get a bit uncomfortable. Without looking any further, Associate Professor Darryn picked up the little one and carried her for the rest of the lecture so that mommy Kary would not feel stressed during class.
Aren't these moments astonishing? These are a few incidents out of some that touched the netizens' heart. We just need a few more professors like the above ones, and we are sorted. Parenting will not be stressful at all.