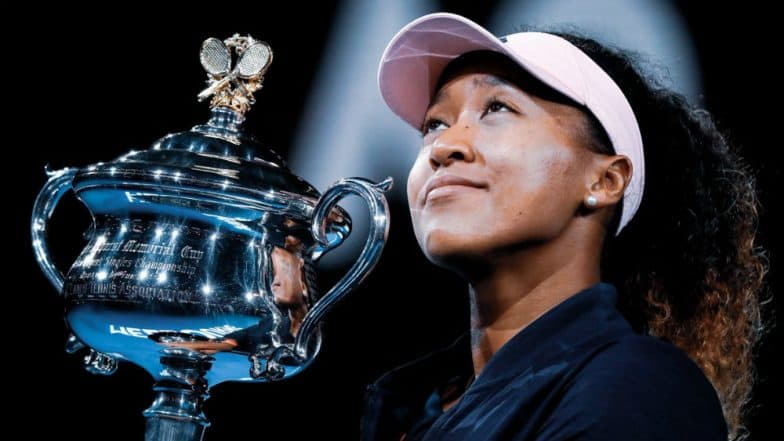 Naomi Osaka won the Australian Open 2019 Women's Singles Grand Slam final against Petra Kvitova and the first grand slam of the year. She beat Petra Kvitova 7-6(2), 5-7, 6-4. Osaka had also won the 2018 US Open championship defeating Serena Williams in the final. This is the second straight grand slam win for Naomi Osaka and she has also become the World No 1 in women's tennis. Petra Kvitova vs Naomi Osaka, Australian Open 2019 Live Streaming Online: How to Watch Live Telecast of Aus Open Women's Singles Final Tennis Match?
The Australian Open Twitter handle tweeted that "Naomi Osaka blew three championship points in the second set. She left the court in tears. But the 21-year-old refocused, and now she's an #AusOpen champion."
Petra Kvitova, talking about her remarkable comeback holding the runners-up trophy, said that "We didn't even know if I would be able to hold the racquet again." Naomi, during her trophy acceptance speech was her humble self as she consoled Petra by saying, "Huge congrats to Petra. I've always wanted to play you. You've been through so much, honestly I wouldn't have wanted this to be our first match."
Earlier, the 21-year-old Naomi Osaka reached her maiden Australian Open final as she defeated former world number one Karolina Pliskova in their semis clash of the women's singles event on Thursday.
The 21-year-old thrashed Pliskova 6-2, 4-6, 6-4 and set up a summit showdown against two times Grand Slam champion Petra Kvitova. With 96 points and 15 aces, Osaka had kept the momentum with herself and played in a dominant fashion on the court. While talking about the match and reaching her first finals of Australian Open, the Japanese player said that she was not at her best but was happy about the fact that she did not give up.