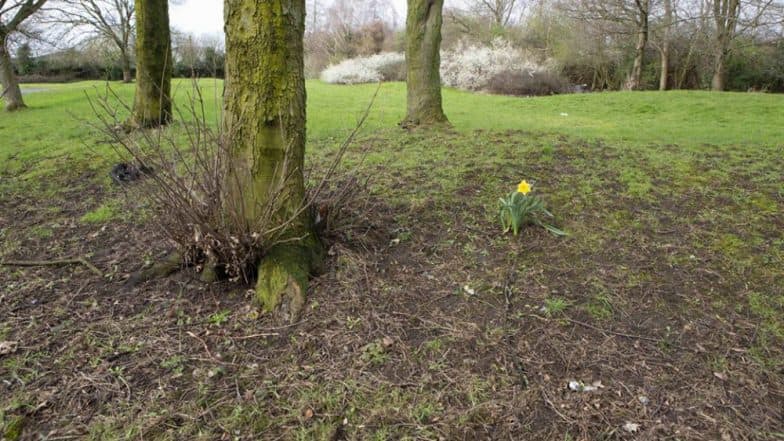 Serious crimes are happening across the world creating enough ruckus among citizens. Police authorities in every corner are constantly vigilant towards the crooks. Crimes can be tackled even more when the citizens keep their eyes open as well. Greater Manchester Police have launched a new campaign— 'Open Your Eyes to Knives' in response to seeing a 'worryingly' large number of knives being hidden in public places and used for criminal purposes. Sharing an image of a garden on their official Facebook page, the police force challenges the public if they could spot the hidden blade. Saudi Plane Forced to Return Immediately After Take-Off As Mother Forgets Baby at Airport. 
Hiding weapons across Greater Manchester have reportedly increased in recent times. Police want the public to be more aware of spotting hidden weapons in public places and hence issued an image of a garden, where the blade is hidden at a location, where they are almost impossible to spot. Baby Chimpanzee Hides Under Blanket After Seeing Her Mum Getting Killed by Poachers. 
Spot the Hidden Weapon!
Could you spot the weapon? Well, honestly, even we are struggling. It seems that the blade is hidden on the right-hand side of the tree's root. GMP is yet to release more such images on their social media pages. According to their press release, the police force will ask the visitors to their social media platforms to spot the knife hidden in a number of images which will be released during the week. GMP intends to encourage conversation around what is often a difficult subject to address.
The Open, Your Eyes to Knives campaign, will run from March 11 to March 17 alongside GMP's Operation Sceptre over the coming weeks and months to tackle knife crime, incorporating a range of policing tactics including hotspot targeting and stop and search methods.