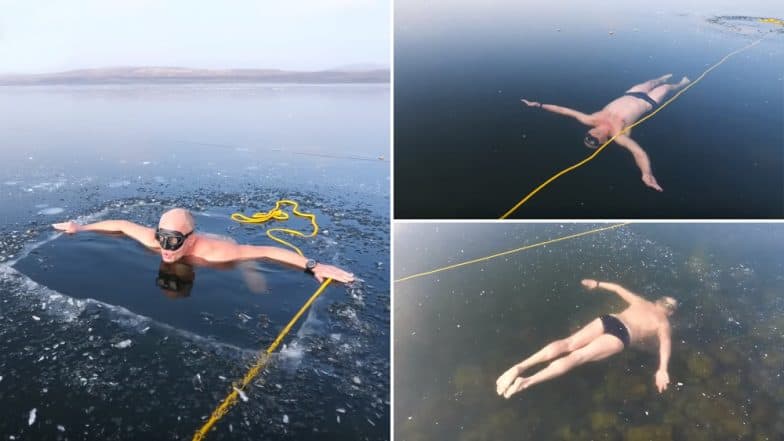 Winter this year has frozen lakes, waterfalls, river and most smaller water bodies in many countries around the world. And many daredevils are using the icy cold weather to attempt some adrenaline rushing stunts. A 54-year-old freediver swam through a frozen Lake Milada in the Czech Republic in just trunks! Petr Kapoun waded through water beneath a layer of ice in crystal clear water.
He broke the ice at two ends, starts at one hole and finishes at the other. A yellow string was put through to guide him the way or help him in case of any mishap. Petr undertook the act in January and now the video has gone viral on social media. The clip shows Petr quite effortlessly swimming through the water with hardly any clothes on. Niagara Falls Freezes! Check Out Mesmerising Photos And Videos of the Icy Waterfall on US And Canada Border.
Watch the video below:
As the videos of Petr went viral, many commented that swimming in such freezing temperatures could result in hypothermia. And not many appeared impressed by the feat achieved by the daredevil, at least not in this weather. Petr who takes his health seriously is also an adventure seeker. Reportedly, he said he maintains a diet and is strict with his workout regime that helps him build strength and swim in frozen waters. Winter 2019: These Pictures of Snowfall From India And Around The World Would Make You Want to Head For a Vacation Now!
Here is another video of the same attempt:
A video of a Russian man walking on a frozen Lake in Russia had gone viral on social media. The clip showed him walking on Lake Baikal, world's deepest lake at 1,700 metres using a selfie stick. Last month, a social media star Gigi Wu dubbed as the 'Bikini Climber' died after trekking on top of a mountain in just a bikini. It is also said she dresses in essential clothing while climbing and only changes after reaching the top, however, she is said to have died of hypothermia. Taiwan rescue teams could her after she informed her friends using a satellite phone that she had fallen down a ravine in Taiwan's Yushan national park and badly injured herself.