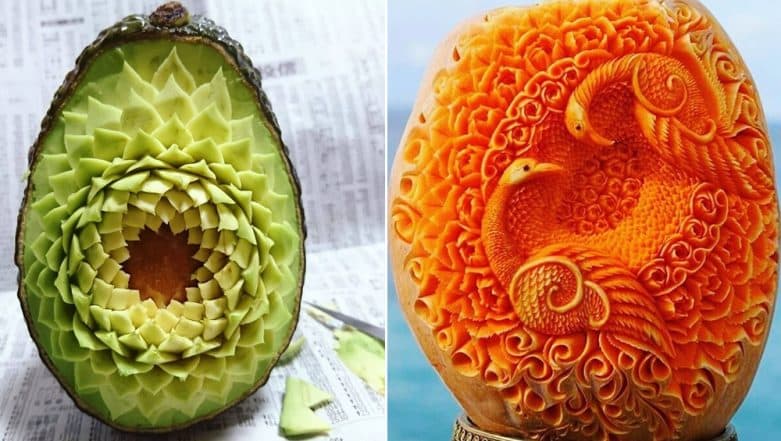 The traditional Thai fruit carving is quite an art that will leave you in awe of it. Fruit carving holds cultural value in Thailand and has been carried out for centuries. It requires utmost concentration, neatness and good knowledge of carving to create a platter of Thai fruit carvings. It is a popular custom during Songkran, Thai New Year's which is a national holiday. KNown as kae sa luk in Thai, sometimes the detailing required in the work makes it difficult to believe it is the work of a hand.
Traditionally it was an art taught mainly to women at Thai royal palace. Its origin can be traced back to the 14th century during the Sukhothai dynasty. Fruits are carved to look like flowers, fish, birds, trees, etc. Mostly fruits and vegetables including apple, banana, papaya, watermelon, onion, broccoli, brinjals are used to create these artworks. Japanese Artist Kakuho Fujii's Adorable Miniature Clay Art Is Out of This World!
Check out some of the beautiful carvings:
View this post on Instagram
These edible artworks have been created by Chef Takehiro Kishimoto who uses a knife to create patterns on fruits and vegetables.
An avocado turned into an owl!
View this post on Instagram
It is said that it started with a royal servant trying to make fruits look more attractive before being eaten.
View this post on Instagram
While over the years, Thai fruit has lost its royal status, the art is still alive and has different modern versions.
View this post on Instagram
In recent times, there has been a rise in the art with people actively promoting their creations on social media.
View this post on Instagram
Check out this video below!
View this post on Instagram
Eggplant Poké Ball!
View this post on Instagram
Various fruit and vegetable carving competition are held in which children actively participate. Due to the fear of losing the art in modern times, the government introduced fruit carving in education hoping there is an increase in fruit carving experts. Fruit carving is also an offering in temples and is common decorations for weddings. There is a course on fruit carving for fine arts students at the university.