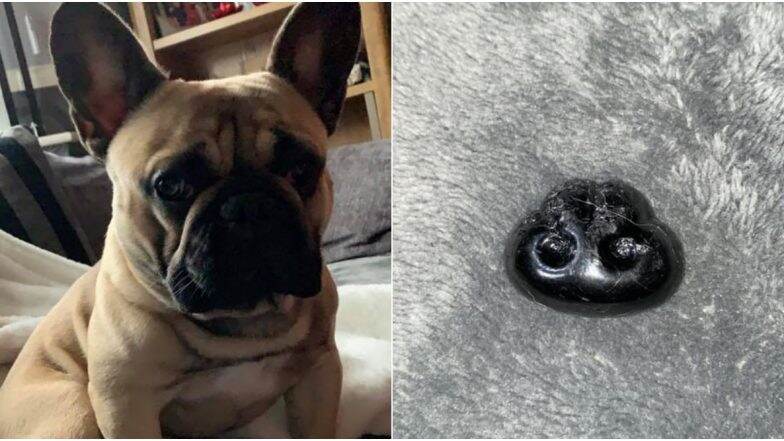 Pet falling sick is one of the scariest things for any pet owner. A pet owner from Coventry, West Midlands was shocked when she spotted a "nose" lying on the floor, that looked exactly like her own pooch's. She was terrified at the thought that her pet, a French bulldog, broke off his nose. But on closer inspection, she realised it was a toy's nose that her pet had chewed off. She wrote about the funny incident on Facebook and people can't stop laughing. Pet Dog Plays With Dildo He Found Inside Neighbours' Package; Owners Embarrassed, Watch Funny Video.
Jade Murray was playing with her beloved pet Lenny. While playing, she found a dog nose-like object on the floor. She decided to investigate and let the pet out of her room. She panicked so much at the thought that her pet dog's nose had fallen off. She could not register her next thoughts, thinking how will he survive, not being able to sniff again and the pain he must be going through. She then gathered the courage to actually pick "the nose" up. That's when she realised that it belonged to a toy. Lenny had bitten it off while playing with his chewy toy that lay on the floor. The incident is indeed hilarious and she decided to share it on Facebook. The post went crazy viral with over a lakh likes and over 90,000 shares. Pet Dog Eats £160 Cash and Owners Spend £130 to The Vet to Recover it (View Pic).
Check The Viral Facebook Post Here:
The nose looks exactly like Lenny's so we understand why Jade must have been panic-stricken. A lot of people also commented that even they would flip out if they were in her place. For others, it was a funny post that made their day. A lot of people left laughing emojis on her pictures. "I dont think our day could be this bad, nor this funny," wrote one. Given the way Jade puts it, it is indeed scary yet funny.