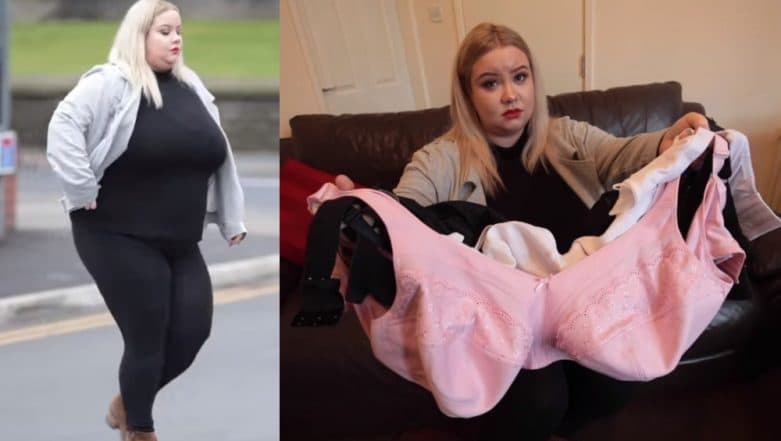 A mother from Great Manchester is suffering from a rare condition that has left her breasts growing forever. 25-year-old Fiona Hornby is now worried that her 48J chest will continue getting bigger. She suffers from macromastia, a rare condition that causes abnormal enlargement of the breast tissue. She is almost in constant pain and suffers from sores and spots. Her condition is debilitating and Fiona finds it difficult to find clothes of her size. Macromastia may be caused by glandular hypertrophy, excessive fatty tissue or a combination of both. She suffers from acute back pain and cannot stand for more than five minutes at a time.
Fiona has struggled with bigger breasts since the age of 10. She attained puberty at the age of 10 and it grew from C cup to a 48J. Fiona revealed the problems she has been facing to her large boons on This Morning sofa to John Barrowman and Rochelle Humes. Fiona who works a payroll clerk said that she that many-a-times she has struggled to leave the house because of the back pain. The mother said she is constantly on diet as she can't exercise to lose weight. Want Bigger Boobs? Beware, This Woman's Botched up Breast Implants Turned Them Into 'Rocks'! Know about Capsular Contracture.
She was quoted as saying, "My huge breasts have ruined my life. They have affected everything. My self-esteem has hit rock bottom, I can't find any clothes that fit and can't wear the same things as people my age. I have terrible back pains caused by the weight of my breasts. I can't hover or sleep properly. If I do washing up I have to take a break halfway through because the pain is terrible. I find it difficult to go out in public because people think I've got big boobs because I look fat. Some people have even asked if I have had a boob job as they're that large." Big-Boobs Instagram Model, Pamela Odame Watara Claims Influential People Ready to Pay $1000 to Touch Her Huge Breasts; Check Out Hot Videos.
Watch the video below:
She further said, "It's uncomfortable with a bra, without a bra. It's something that is a struggle every single day. They cause me to pain every single day. It makes me depressed. It makes me so depressed. It's something that I can't change." She visited multiple doctors but was given no hope. They told her that a breast reduction surgery was not possible. One of the doctors even blamed Brexit for it. She was told, "The way that Britain is now, and the economy there's no way you'll get funded on the NHS. That was a bit of a shock." Boobie Secrets 101: 9 Funny and Crazy Things Girls Do With Their Boobs Secretly You Wished You Knew.
Watch her interview with The Morning:
An NHS spokesperson told This Morning, "NHS does offer breast reduction surgery to patients who will benefit in line with the national guidance developed with patient groups, surgeons and medical experts." Fiona has now set up a Gofundme page to raise £5,500 (Rs 5 lakh) required for the operation. Fiona said a breast reduction surgery would be 'life-changing'.