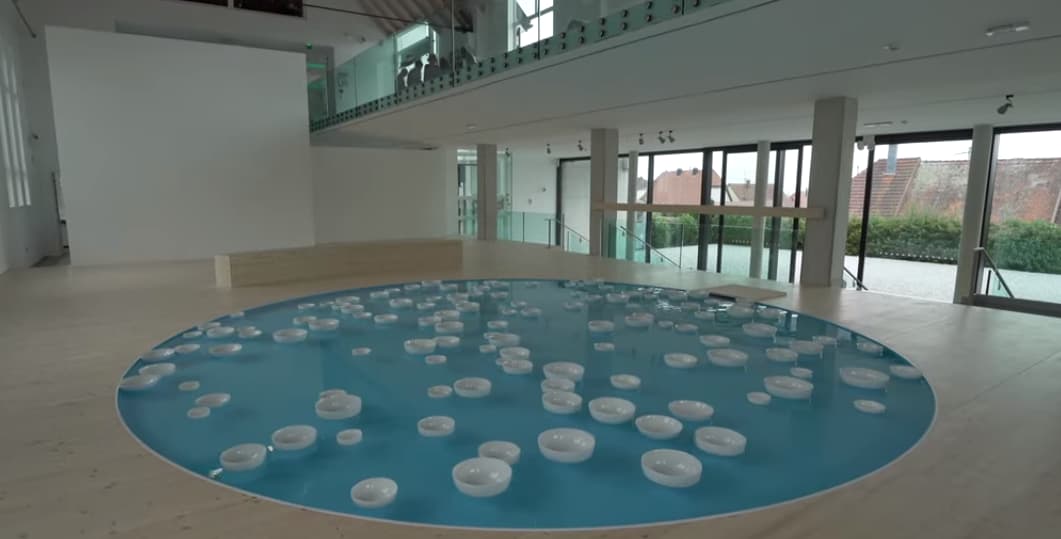 Céleste Boursier-Mougenot, a modern French artist turned an entire art centre into site-specific visual and sound installations. The artwork called Liquide Liquide shows bowls of different sizes drifting in a pool giving rise to varying sounds. The watercourse flows from the roof of the building through the entire art centre. As video of the artwork was shared widely on social media platforms, Twitter users said that the sound of the bowls clinging on flowing water was therapeutic and soothing. Internet users were highly appreciative of the innovation and creative work. Artwork Made of Moose Poop! Excellent Excrement Art by Maine Woman Goes Viral, View Pics.
Céleste Boursier-Mougenot is known for bringing musical and visual spheres containing different sources of musical sounding. Boursier-Mougenot creates a set of standards for sound-producing rather than music. He tries to use potential usual objects, spheres and actions to create the artwork. Banksy's Self-Shredding Painting 'Love Is in the Bin' Goes on Display in Germany.
The video takes you through the exhibition and the artist's work. Visitors enter the exhibition at the lowest point of the building and follows the course to its highest point. The video also gives an introduction to both Fondation François Schneider and Céleste Boursier-Mougenot's exhibition by the director of the Fondation François Schneider and curator of the exhibition, Marie Terrieux.
Céleste Boursier-Mougenot's Liquide Liquide:
Bousier-Mougenot's installations are investigations into sound-space and presence using perceptual states of affective suspension and lateral comprehension. Using domestic materials, sound equipment, and musical instruments as objects, he creates sound installations. He is professionally trained as a composer-musician and has worked ten years in composition within the contemporary dance world. His unique look at the possibilities and relationships between sounds and objects stands out from the rest of his contemporaries.