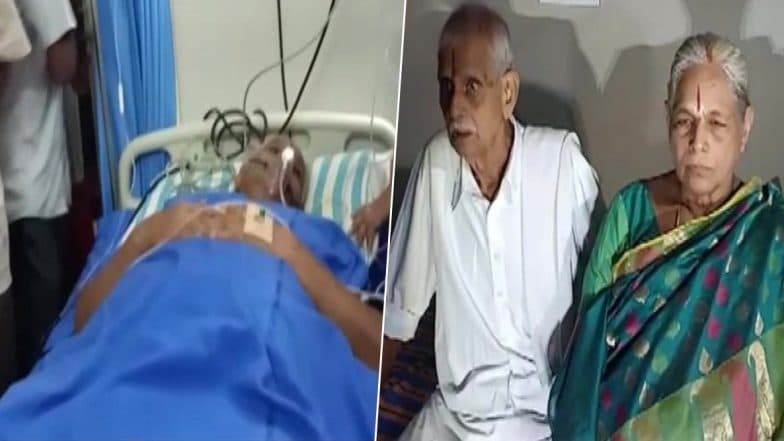 74-year-old Mangayamma Yaramati and 80-year-old Sitarama Rajarao, a couple from Andhra Pradesh made it all over the headlines as they became the oldest parents in the world. The woman gave birth to twin daughters following an IVF treatment. But the husband suffered a heart attack just a day after the daughters were born. While he is under treatment, it has emerged that Mangayamma Yaramati is also admitted in the intensive care unit. To relieve her from the stress in the past few days, the mother is in ICU since the day of the birth of their daughters.
The exact reason why Ms Mangayamma is in the intensive care unit is not yet clear but several experts have expressed that pregnancy in such an old age can cause a number of risks, including hypertension. Doctors haven't released any more details except saying both the husband and wife are stable, reports the Times of London. Due to the age of the couple, there was a controversy about IVFs being allowed for such an elderly couple.
The two called themselves the "luckiest couple in the world" after becoming parents. They were living in a childless marriage for 57 years and often received taunts from their neighbours. After being unable to give birth through natural ways, they conceived through IVF.  The 74-year-old Mangayamma delivered twin girls at the Ahalya Nursing Home in Guntur, in the southern state of Andhra Pradesh on September 5. The couple had expressed their happiness on becoming parents at an old age. Rajarao told ANI, "It is due to the grace of God and doctors that I have now become a proud father of two baby girls. God has answered our prayers. This is the happiest time of my life."
But right now both the parents are admitted in the ICU. The doctors meanwhile, have revealed that the twin babies are doing absolutely fine and have also put on weight. According to the Times report, the babies now weigh 5.5 pounds. And it also mentions that in any case, if the parents are unable to look after their twins, the relatives are always there to step in.