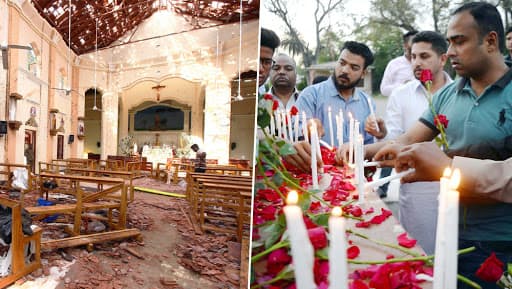 Colombo, May 2: Two days after revoking a ban on the Sunday mass services in the island nation, Sri Lanka Catholics cancel Sunday mass over new bomb fears on Thursday, reports news agency AFP. Concerned over the security of the Christians community, Archbishop Cardinal Malcolm Ranjith has cancelled Sunday mass for the second consecutive week.
Earlier, the Archbishop Cardinal Malcolm Ranjith has announced that the mass services in Sri Lanka will resume from the coming Sunday, i.e. May 5. However, with the latest bomb threat emerges in the island nation, the new updates have been disseminated to the country people. Sri Lanka to Resume Mass Services on May 5, Says Cardinal; Congregations Were Suspended Post Easter Sunday Bombings. 
With the new advisory in place, Prime Minister Ranil Wickremesinghe has instructed the police to provide necessary security to Mosques, Churches and Temples to ensure weekly prayers can resume without any disturbances. The advisory has come days after the deadliest terror attack in a decade in Sri Lanka, in which around 260 dead and injured over 400 people, mostly from the Christian community.
After the terror attack, the Sri Lankan administration imposed a ban on the social media network and international visa of several counties. However, it revoked the temporary ban placed on social media platforms including Facebook, Viber, WhatsApp, Instagram and Twitter. Sri Lanka Lifts Ban on WhatsApp, Viber and Facebook 9 Days After The Serial Blasts. 
Earlier too, the Sri Lankan government in 2018 had briefly banned social media platforms, in particular, Facebook, after a wave of rumours appeared to have instigated anti-Muslim riots and lynchings in the country, reported New York Times.